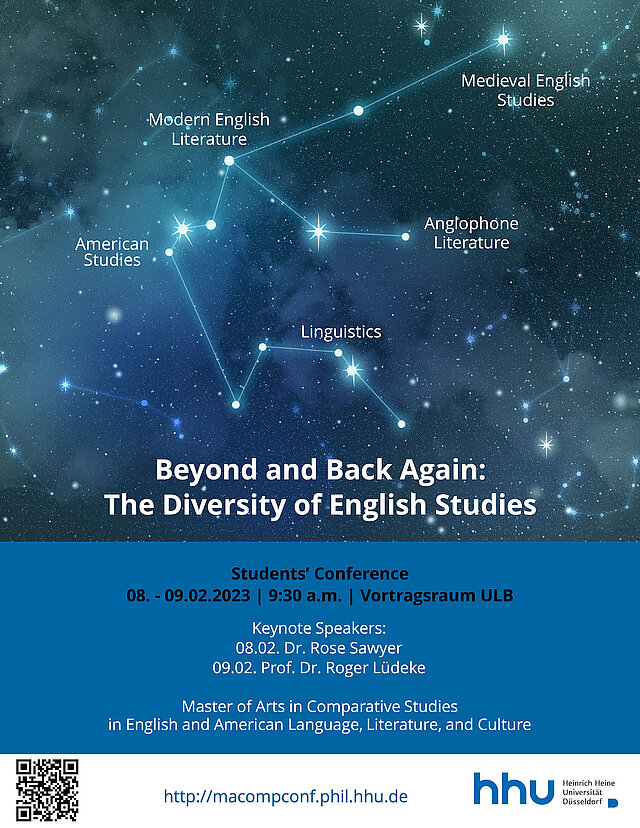 Students' Conference 2023
This year's annual Conference organized by the students of the M.A. Comparative English Studies will take place on the 8th and 9th of February 2023.
The Conference is titled "Beyond and Back Again: The Diversity of English Studies" and will take place in the big conference room of the main library.
You are all cordially invited!
M. A. Comparative Studies in English and American Language, Literature, and Culture
The Master's program Comparative Studies in English and American Language, Literature and Culture (MAComp) is a unique, interdisciplinary program aimed at providing graduate students with a professionally qualified education within the fields of English and American studies, literary and cultural studies and linguistics. It allows them to hone their academic as well as professional skills on an intercultural level, paving them the way into domestic and international job markets for both academic and non-academic careers.
In approaching literature and linguistics comparatively, students will engage with cultural phenomena within the changing contexts of history and globalization. Taking into consideration theories on such socio-cultural variables as class, gender, ethnicity, technology, or media, the MAComp curriculum relates to current research and also includes areas of studies beyond the philologies.
Students have ample opportunity to customize their course of study according to their own interests. They can combine modules or focus on one specific area from all courses offered in the six departments of the Institute for English and American Studies:
• Comparative Literature (newly inaugurated, Chair: Prof. Soelve Curdts)
Fully taught in English, the four-semester program starts solely in the winter semester (October).
Master of Arts: Comparative Studies in English and American Language, Literature and Culture
Application for winter semester 2022/23
International candidates are invited to apply as early to ensure that subsequent administrative steps can be taken on time. Apllying on time is vital to be admitted for study.
Apply to the program via the links below.
Online Aptitude Assessment:
International candidates and German candidates or candidates with a German Bachelors degree: https://digstu.hhu.de
Deadlines:
The closing date for international and German candidates is September 15th, 2022.
PLEASE NOTE THAT APPLICATIONS CAN BE SUBMITTED EARLIEST ON 1st MAY.
Visit the application section for more information.