Study at De Montfort University in Leicester

Study at De Montfort University in Leicester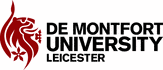 Bachelor and Master students of English and American Studies can apply for two places in total through our cooperation program with De Montfort University Leicester.
The duration of stay for MA-students is one semester (September - December), BA-students also have the option of applying for two semesters (September - June).
Application Deadline is March 1st!

Funding possibilities

All selected students are exempt from tuition fees and will receive monthly funding of at least €250 through our Erasmus+ cooperation with the university.
BAföG abroad covers up to €4,600 on tuition fees abroad. More information:
www.auslandsbafoeg.de

www.das-neue-bafoeg.de

www.bafoeg-rechner.de

Even if you are not currently receiving BAföG, you may be eligible for funding.
Recognition of Credits

The "Studierendenbüro" is responsible for the transfer of credits for English and American Studies students. In most cases, this transfer is completed according to the Erasmus+ framework. We advise students to coordinate the selection of courses with the designated staff in advance in order to facilitate the process.
Application documents:
The application documents must be submitted by the above-mentioned deadline as a PDF-document to this e-mail address: auslandskontakte-anglistik(at)phil-fak.uni-duesseldorf.de
ATTENTION: All applications must also be submitted via https://uni-duesseldorf.moveonnet.eu/moveonline/outgoing/welcome.php This does NOT replace the application via e-mail
Letter of Motivation in English (1-2 pages)
CV in English with picture (tabular form)
(Preliminary) Transcript of Records for major and minor (in English for BA applicants) as well as BA Diploma (for MA Applicants)
Copy of "Abitur" Certificate or equivalent certificate (no authentication needed)
LSF Overview of Performance (with average grade)
Selection Criteria

The student's performance (an average grade of at least 2.5) and motivation determine the selection of candidates. An English and American Studies Institute committee will evaluate the applications received. They will consider the overall application: the grades, the academic intention expressed in the letter, the transcript, and the CV should be consistent with each other and provide a coherent image of the candidate. After reviewing the applications, each student will be invited to an interview with the committee. At this stage, the overall presentation and language skills, and the academic motivation will be determining.
Contact Person
Lecturer
PD Dr.
Philipp Erchinger
Building: 23.32
Floor/Room: 04.30
Phone +49 211 81-13275
Fax +49 211 81-11443
Send mail
Detailseite
Office Hours:
Mondays 12:00 – 13:00

Address:
Heinrich-Heine-Universität Düsseldorf
Anglistisches Institut IV, Gebäude 23.32
Universitätsstrasse 1
D-40225 Düsseldorf