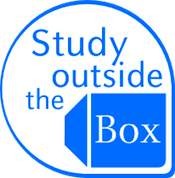 In the summer term 2012, the English department of the Heinrich-Heine-University organises a unique teaching project. Under the motto Study outside the Box, students are invited to conduct their own research and to present the results in a conference at the end of the summer term. The focus is on developing the skills and gaining the knowledge to work on topics of your own interest creatively and to present your work in unique and interesting ways.
For this we offer two projects, one based in the Vertiefungsmodul / Intermediate module, one in the Aufbaumodul / Advanced module.

Theory and Practice is aimed at first or second year students who would like to combine research approaches and their practical applications. Looking at the topic of "Storytelling", we will find out how stories can be analysed, how they are told, why they are told and how they can be re-told in a new manner. For second and third year students we offer classes dealing with the topic Genre and Society. Classes in this project will deal with the question how genres function in society, how society creates and controls genres, and why certain genres may lose their popularity and even their function.

The classes connected to the two projects are also part of the regular BA curriculum and you will be able to participate in the classes outside of the project. However, the classes strongly encourage you to take the opportunity to work creatively on your own projects.

If you are interested in participating or have further questions, take a look at the rest of the website or contact us via e-mail at studybox(at)phil.hhu.de.